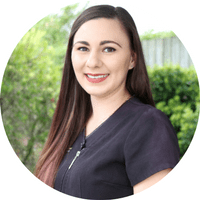 Emily Rohder
Dental Assistant
Emily is a qualified dental assistant with a Certificate III and IV up her sleeve, she has also completed courses for dental laboratory and photography studies.
Emily has been a dental assistant since 2009 and has been with the team at Southside Dental Group since 2014.
Emily primarily works with Dr Vishnu and loves helping create beautiful smiles for our patients with orthodontics.
In her spare time Emily enjoys spending time with her 2 puppies (Minnie and Obi) playing tennis and baking yummy desserts for the team to enjoy.
07 3279 8811 RICHLANDS
07 3818 9100 SPRINGFIELD