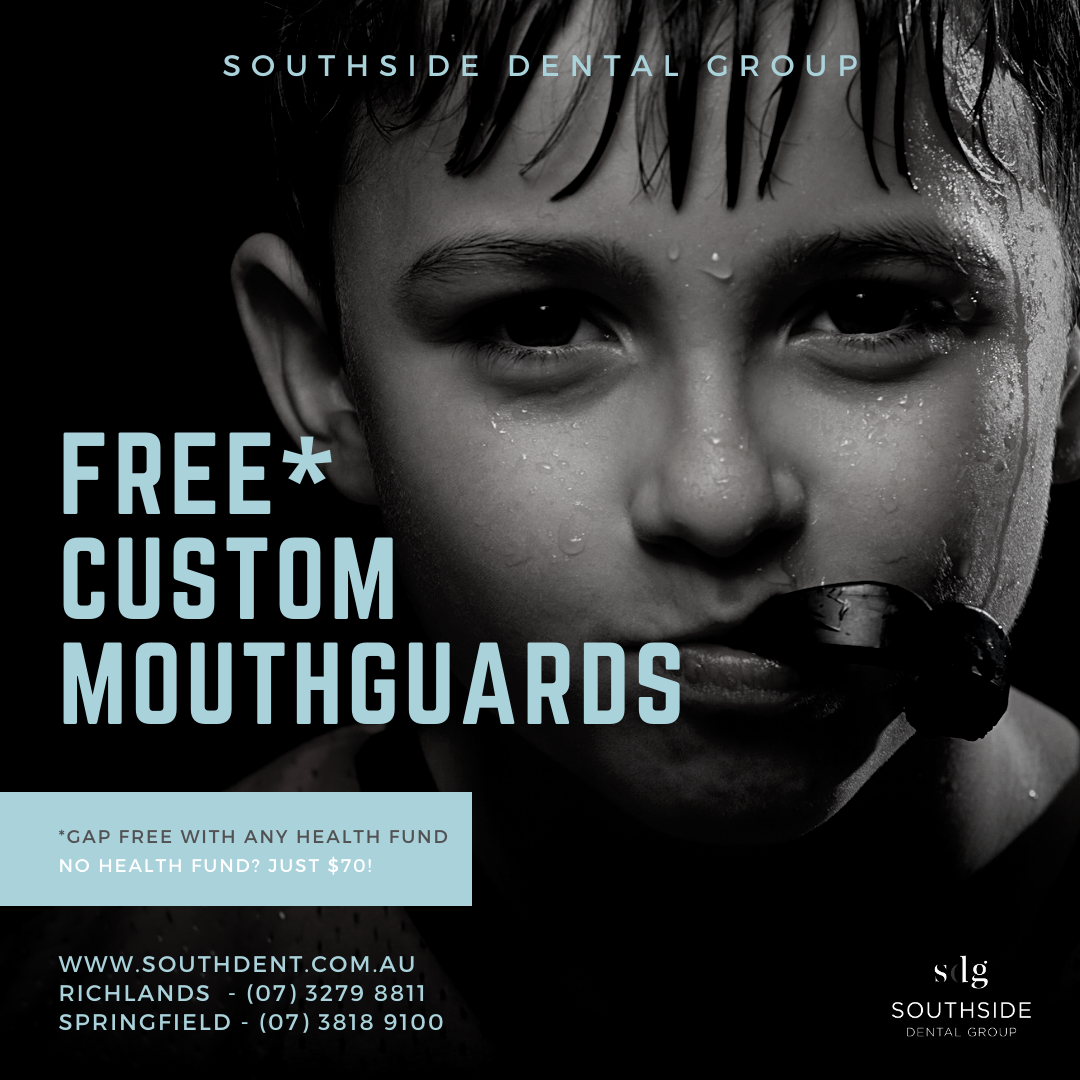 Mouthguards are an absolute must have as part of any child or adult's protective sports gear.
In this blog post we give you an in-depth understanding of the following:
Why wear a mouthguard? What are the benefits?
What are some of the injuries that can occur from not wearing a mouthguard?
Where can you buy custom mouthguards?
Southside Dental Group Mouthguard Promotion
Compare Custom Mouthguards vs Boil and Bite Mouthguards vs Stock Mouthguards
What types of sport is a mouthguard recommended for?
How long do mouthguards last?
How to correctly care for your custom dentist made mouth guard?
Why wear a mouthguard?
Each year, thousands of children and adults are treated for dental injuries that could have been prevented or minimised by simply wearing a sports mouthguard.
The Australian Dental Association strongly recommends the use of a mouthguard in any contact sport or activity where collision is possible, during both games and training. Our Springfield dental practice and Richlands dental practice both provide custom made mouthguards, read on to learn more about our mouthguard promotion.
Let's also not forget that all the cool kids are wearing them. (refer to cool people below 😉 )
Steph Curry  –  Basketball Mouthguard
Richie McCaw – Rugby Mouthguard
Joanna Jedrzejczyk – UFC Mouthguard
Examples of injuries from not wearing a mouthguard
Prevent sport related dental injuries like the ones pictured below for example, by investing in a custom made mouthguard. Our Springfield dentists and Richlands dentists regularly receive emergency dental appointments for sports related dental injuries. Our dentists are well trained in treating these types of injuries however, as dentists we'd much prefer to see children and adults take a more preventative approach when playing contact sports.
Examples of oral injuries sustained from not wearing a mouthguard include:
Knocked out tooth
Chipped/Broken tooth
Fractured jaw
Bleeding lips and cheek injuries
Root damage to teeth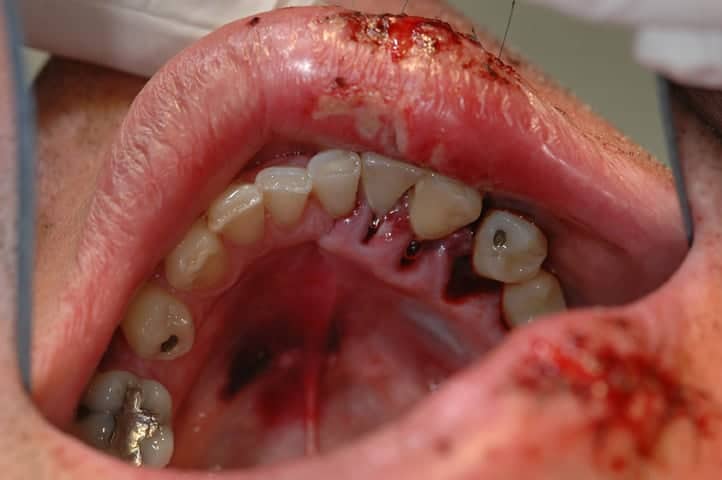 Custom mouthguards can even prevent damage to the brain – helping to prevent the concussion and damage caused by a heavy blow.

Where can you buy Custom Mouthguards?
Custom mouthguards can only be purchased through a private dentist such as Southside Dental Group Springfield or Southside Dental Group Brisbane. We are the trusted local South Brisbane dentists families have been coming to for years and have a well established profile within Brisbane. They cannot be purchased in a pharmacy or sports goods store, as the dental practice takes an impression of your teeth which requires specific dental equipment and technology unavailable at these outlets.
At Southside Dental Group Springfield and South Dental Group Richlands we offer mouthguards for FREE* for anyone with private health insurance (*gap free – not out of pocket expense) or just $70 for anyone without private health insurance. On average you'd be looking at $150 – $200 for a custom fitted mouth guard without this promotion, which is the rate most private dentists will charge.
Southside Dental Group has been partnering with local Brisbane sports teams to offer this special promotion. Our Springfield and Richlands dental team individually hand make all our mouth guards here in Brisbane.
OFFER: GAP FREE Mouthguards for anyone with private health insurance, or $70 for anyone without health insurance.
Most of the teams we have worked with to date are based in the Springfield and Ipswich region, however we are always happy to travel and work with new teams in the South Brisbane area. To date we're proud to have worked with Redbank Plains Bears, Forest Lake Magpies, Greenbank Raiders, Ipswich Eagles AFC, Jindalee Jags and more.
At Southside Dental Group we use the highest grade Australian owned and made mouthguard blanks from our supplier in Melbourne. Patients can choose from 1 colour or 2 colour mouthguards in pearl, fluro and standard colours. With over 30 variations to choose from, you'll be spoilt for choice!
How to book for sports mouthguard appointment? 
To book in your sports club, email sg@southdent.com.au
To book an individual appointment at one of our dental practices call:
Springfield Dentists (07) 3818 9100 or Richlands Dentists (07) 3279 8811 to book in your appointment for a customer sports mouthguard.
Alternatively you can send us an email at sg@southdent.com.au
Compare Custom Mouthguards vs Boil and Bite Mouthguards vs Stock Mouthguards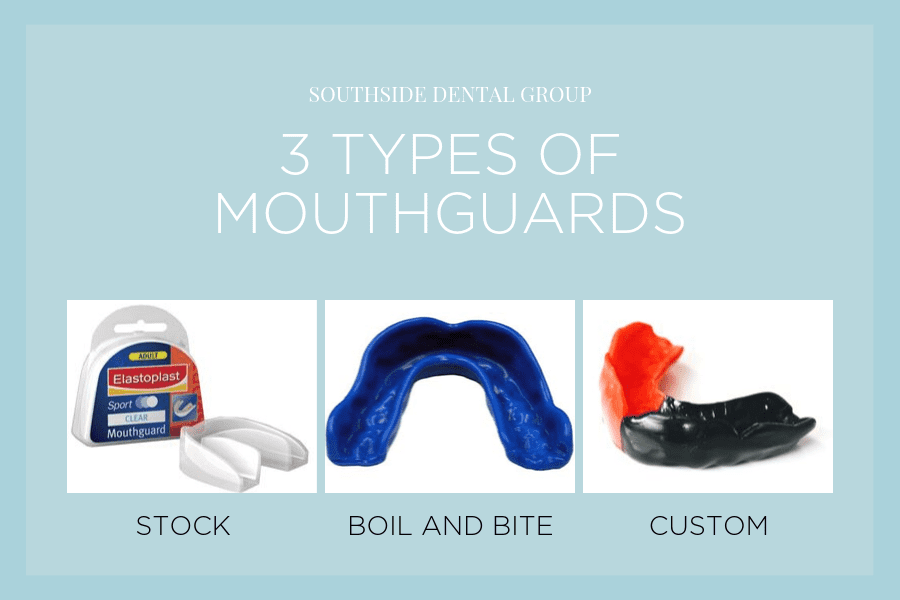 An effective sports mouthguard is one which has sufficient retention to remain in place during sporting activity, and as a result allows for a normal occlusal relationship to give maximum protection. [ Occlusal relationship – the relationship of the mandibular (bottom) teeth to the maxillary (top) teeth when they are in a defined contact position. ]
The mouthguard should absorb and disperse the energy of a shock by:
Allowing mouth breathing and
Protecting soft tissues
Covering the maxillary dental arch
Excluding interferences
Reproducing the occlusal relationship
Custom-fitted mouthguards that have been designed by your dentist tend to be more comfortable than their 'boil-and-bite' counterparts, making breathing and speaking much easier.
These are the mouthguards that you can purchase from a chemist or sports store that offer less protection as they are ill-fitting and consequently can be dangerous during impact. A boil-and-bite mouthguard will set you back $10 to $30 – not much right? However as they saying goes, you get what you pay for. But don't just take our word for it, read here about the horrific injuries Christina Johnson sustained whilst playing hockey with a boil-and-bite mouthguard. $70 may seem like an unnecessary expense, however in the case that a dental injury does occur from not wearing a custom fitted sports mouthguard, $70 won't get you very far with dental treatment costs.
You can purchase stock mouthguards from sporting goods store and the pharmacy, however much like boil-and-bite mouthguards, due to their lack of customisation they tend to offer minimal protection. Whilst stock mouthguards are cheap, they only come in limited sizes, do not fit well, inhibit speech and breathing. Furthermore, the jaw must be closed to hold the mouthguard in place – understandably, not the most practical solution when playing sports.
What types of sport is a mouthguard recommended for?
Ensure you wear your custom sports mouth guards as recommended by our Springfield dentists and Richlands dentists, in any contact sport or activity where collision or contact occurs. Players should be wearing them both during matches/games and training. Examples of sports include:
Rugby
Basketball
Hockey
Soccer
Boxing
MMA/Martial Arts/Kick Boxing/Muai Thai
Baseball
Extreme sports
How long do mouthguards last?
How long your mouthguard lasts comes down to two important factors – age and care.
As children are still growing, new teeth will come through and move into position. Our dentists will take a new impression of the teeth for a new mouthguard, as a result of the previous one becoming too loose or tight. Adults on the other hand may not need to have their mouthguards replaced as often, however like any other sport equipment will suffer wear and tear and need replacement accordingly.
At Southside Dental Group we recommend you bring your mouthguard along to any appointment so they can be checked and adjusted as needed or a new one will be recommended.
Furthermore, by following the care instructions noted below, you prolong the lifespan of your mouthguard.
How to correctly care for your custom dentist made mouth guard
Clean your mouthguard after each wear using toothpaste and a soft-medium bristle toothbrush, then rinse with cold water. You may also use soapy water for cleaning occasionally.
Avoid high temperatures such as scalding hot water and direct sunlight.
Store your mouthguard back in the protective case provided to you by your Southside Dental Group dentists after each session to ensure longevity. With proper care and storage your mouthguard could last a good three to five years!
If you have mouthguard or dental queries, leave us a comment below and we'll be happy to answer them. Alternatively, refer to the details below to book in for your very own custom fitted mouthguard at Springfield or Richlands .
Springfield Dentists (07) 3818 9100
Richlands Dentists (07) 3279 8811
Alternatively you can send us an email at info@southdent.com.au