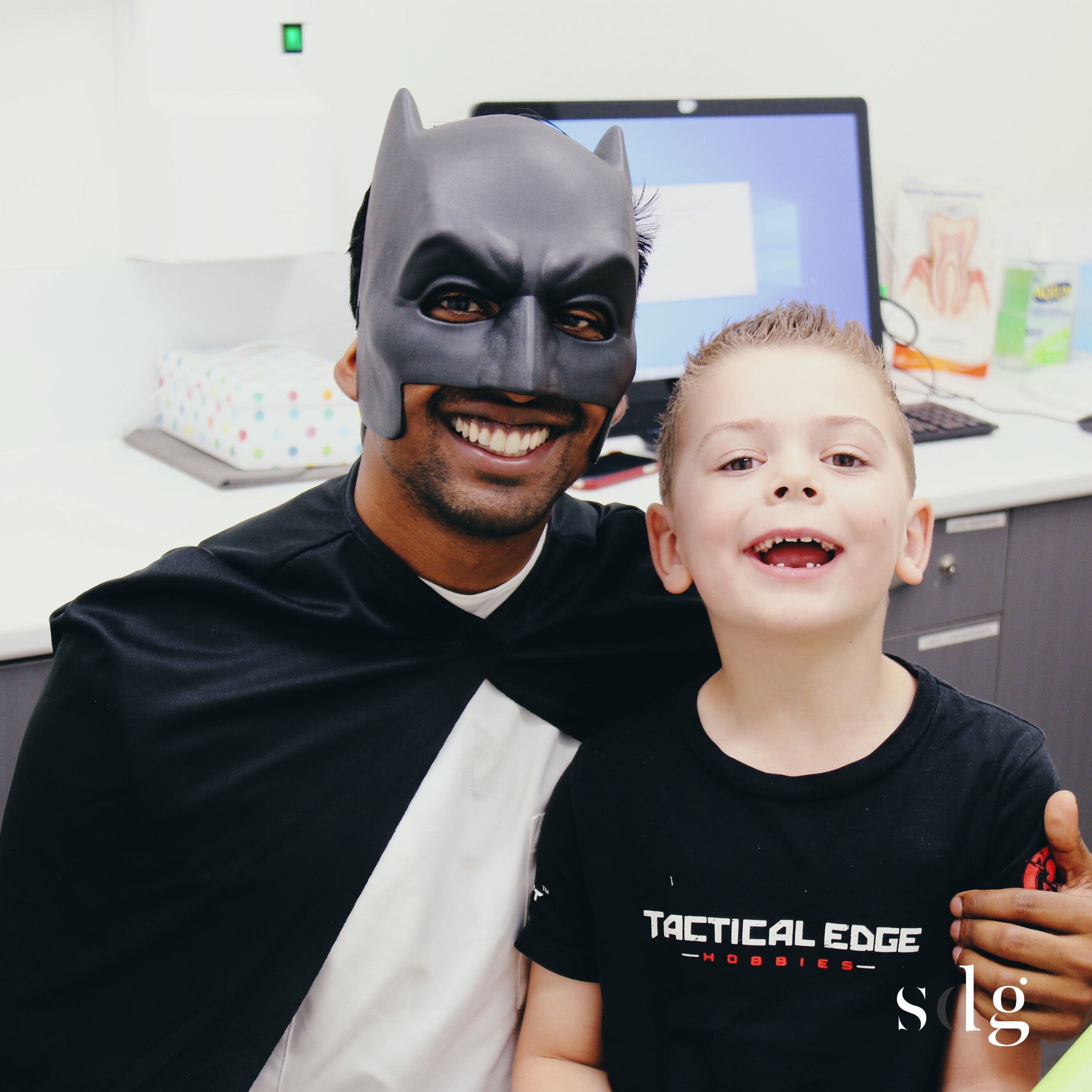 N.B. – We preface this post confirming that permission has been sought from the parents of the child prior to writing this, in-fact it was encouraged. Furthermore, it is also of significance to mention that whilst this is an educational post for families with Autistic/ASD children, we are not psychologists or experts on the topic of Autism. This particular piece is based on an experience with one autistic child on the lower end of the spectrum (and experience with a number of other autistic patients of ours), therefore by no means is applicable to all autistic children. We encourage parents to do their own research and speak to professionals within the field to find a solution that works best for their family.
Khylan's visit to Southside Dental Group Springfield
We recently had a patient Khylan visit Southside Dental Group Springfield for a dental appointment. Khylan's parents are current patients of ours and Khylan's dad brought it to our attention that his son Khylan has Autism. Visit's in the past to other dentists had not gone well, and having now been in Dr Vish care for some time, were hoping to bring Khylan in to see him. The appointment overall was a success with Dr Vish dressing up as Khylan's favourite superhero – Batman, and more importantly receiving the dental treatment he needed. We use this blog post as a chance to educate and inform families of children with Autism Spectrum Disorder on how to approach dental visits, following the success of Khylan's appointment and other patients.

What is Autism / Autism Spectrum Disorder ?
In line with our introduction, we draw on the definition of Autism provided by Autism Spectrum Australia, Australia's largest autism-specific service provider.
"All people on the autism spectrum are affected to some degree in two main areas: social communication and repetitive patterns of behaviour. Autism is also often characterised by sensory sensitivities. Autism is a lifelong developmental condition. 1 in 70 Australians are diagnosed with autism spectrum disorder. The word spectrum reflects the wide range of difference that people on the spectrum experience and the extent to which they may be affected. No two people on the autism spectrum are alike, and all have unique strengths and interests." – Autism Spectrum Australia.
How may my child's autism spectrum disorder impact their oral health?
Patients who have ASD may be at a higher risk than typical patients for some dental problems. This can be due to a variety of factors including behavioural difficulties that make oral hygiene at home difficult and a poor diet higher in fermentable carbohydrates and sugars. Patients with a diagnosis of ASD may also be at higher risk for some common dental problems depending on the severity of the manifestations of their symptoms. Some common oral problems the dentist may encounter are
Bruxism
Self-injury
Erosion
Xerostomia (dry mouth)
Hypergag reflex
Non-nutritive chewing
Tongue thrusting
How can a child's autism diagnosis affect their dental treatment?
Research conducted for the article 'Management of Autistic Patients in Dental Office: A Clinical Update' – found the following:
"During the dental treatment, the main challenge is reduced ability of autistic kids to communicate and relate to others. Other problems like lack of capability to manage their emotions, repetitive body movements, hyperactivity associated with attention deficiency, and low frustration threshold can lead to peevishness and bizarre vocalizations. Sensations or sensory issues involve visual, auditory, olfactory, gustatory (taste and texture), and tactile cues.
The dental team should be organized for changeable and atypical responses to sensory stimuli, as these patients dislike even minute changes in their surroundings and require resemblance in continuity. Kopel reported that there will be high level of peripheral vision in autistic children. So lateral movements of any toy just before the patient are potential distractions should be avoided. These movements can change the behaviour of child."
What steps could I take as a parent to allow a greater chance of success for my child's dental appointment?
Communication
Advise the practice/dentist beforehand – This is one step that we cannot stress enough, therefore is discussed in further detail later in the blog. There are dentists that are experienced in treating children with special needs/behavioural issues and alternatively there are dentist that have no experience or just refuse (information provided to us by our patients). To avoid disappointment and stress for both yourself and child, we strongly encourage you to bring this to the dentist's attention prior to the appointment.
Advise your child beforehand – In speaking with parents of autistic children and based on our experiences in treating them, we find that having a conversation with them beforehand is best. What can they expect during their appointment? What is the dentist's name? How long will the appointment go for? A lack of understand is often the reason for fear/discomfort/anxiety. "They may not have understood the importance of having healthy teeth and gums and the consequences of not having regular appointments." (National Autistic Society UK, 2017). There are many basic story books about visiting the dentist which may help you, eg Peppa Pig: Dentist Trip, Dora Goes to the Dentist and Going to the Dentist.
Do your research beforehand. Speak to other families with autistic children so you know who to consider/rule out, call a few different places or speak to them in person. It's important to do as much ground work as possible, because for many it can be a one shot situation. If the appointment does not go well, this can result in a perpetual fear of the dentist. Consider trialling the dentist yourself, so that you can experience their style of communication/treatment and see if it may be suitable for your child.
Techniques
Ease them into the process/Desensitisation Techniques: It is important that parents do not wait until the child needs major dental treatment (e.g. wisdom tooth removal, root canal treatment etc. ) to have their first appointment. Coming in for general 6 monthly appointments ensures preventative care measures are taken and can also alleviate fears associated with visiting the dentist.
Parental Absence/Presence: While many with an ASD are more relaxed and cooperative when their parents are with them, some children actually respond better when their parents are not present.
Questions and information to consider/prepare:
Do they have a preference for a male/female or older/younger dentist?
What is their favourite tv show?
Do they have a genre of music they find comforting that we can have playing in the background? Or do they respond better to silence?
What are some of their interests or topics they like to talk about?
Why is it important to advise the dentist beforehand?
With this particular patient we were fortunate that his father spoke to us beforehand about his son's autism. He expressed concern in booking an appointment following previous experiences with other dentists that had not gone well. He also asked if it would be possible to incorporate something that was of interest to him, to make the experience less daunting. For Khylan, he really loves batman! So for us this was an easy task, we got a mask and cape and lucky Dr Vish got to dress up a batman for the first time! Khylan was completely comfortable throughout the appointment which was really lovely and surprising for the dad to see. We believe it's safe to say that Khylan is officially a fan of the Dr Vish aka batman!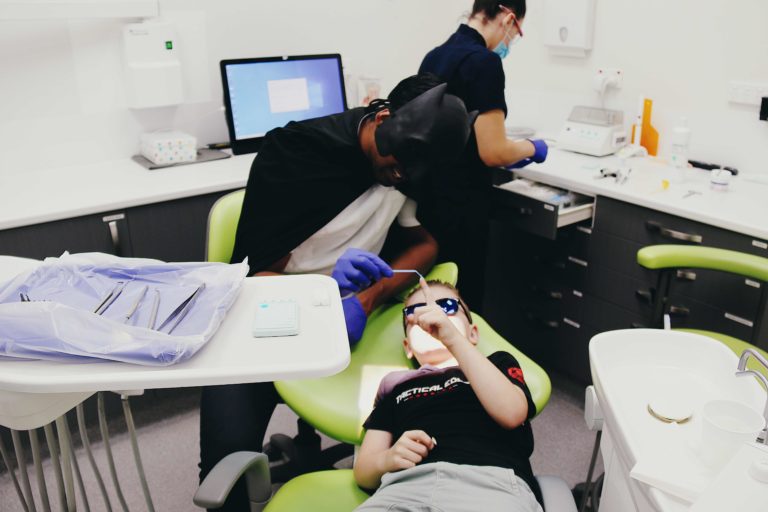 To increase the likelihood of a positive outcome overall, let the dentists/dental practice know beforehand. (Techniques often employed are listed below)
What can we as dentists at Southside Dental Group do to make your child's appointment run smoothly?
To date our experience with children on the autism spectrum (to our knowledge) have gone well. We have had numerous parents called beforehand anxious about bringing their child in following negative experiences with other dentists. Fortunately, to date we have had nothing but success stories. As mentioned above however, no two people on the spectrum are alike, so please take this into consideration.
As dentists experienced in treating patients with ASD, it's important for us to let parents know that we understand you have your own concerns. For example: the event your child is non-compliant or has a behavioural outburst. We're incredibly understanding in these situations and Southside Dental Group always treat patients with the utmost respect. Our main goal is to ensure your child receives optimal dental treatment in a safe and comforting environment.
For example, listed below are techniques we can employ if advised prior. Hopefully we can have a success story like Khylans' for your child as well.

Strategies to help improve the dental experience:
Play their favourite tv show/movie on the reception TV and surgery ceiling TV
Play music they find comforting in the surgery during treatment. Alternatively, provide noise cancelling headphones if this is their preference.
Cater for requests regarding a male/female dentist preference
Have some talking points prepared or partner them with a dentist who has similar interests
Show pictures or photos that show the different steps involved in the treatment
Let the child take comforters into the surgery to help occupy or distract them (e.g. special toys or fidget spinners)
Employing desensitisation techniques, for example: sitting in the chair for a specific amount time, sitting in the chair while allowing the dental practitioner to count their teeth, sitting in the chair while allowing the dental practitioner to brush their teeth. (These techniques in particular proved successful for Khylan).
Allow for a longer appointment time
Nitrous Oxide – The effectiveness of this method depends on the patient. He/she must be old enough, cooperative enough and cognitively aware enough to do this. (Inhalation of Nitrous Oxide through the nose during the entire appointment is necessary).
Ensuring the patient sees the same dentist each time
Special requests such as having Batman perform the treatment!
Southside Dental Group Richlands and Springfield
In short, at Southside Dental Group we welcome all patients. For instance, patients with special needs, behavioural issues, learning difficulties and more – both children and adults. If you have any questions or concerns, please call or pop in and see us to resolve any queries.
Southside Dental Group is located in two convenient South Brisbane locations – Richlands dental practice and Springfield dental practice. Ample on site parking is provided, and we are close to public transport.
We are open early morning from 8AM so you can get in before work, through to 7:30 PM at night Monday – Thursday, if you want to pop in after work, or 8AM – 5PM Friday.
Can't make it during the week? Don't stress, we're open by appointment Saturdays from 9AM – 2PM.
Click here to see what our patients have to say about us.
Richlands – (07) 3279 8811
Springfield – (07) 3818 9100
References:
Autism Speaks. 2020. Treating Children with Autism Spectrum Disorder. [ONLINE] Available at: https://www.autismspeaks.org/sites/default/files/2018-08/Dental%20Professionals%20Tool%20Kit.pdf.
Autism Spectrum Australia. 2020. Autism Spectrum Australia. [ONLINE] Available at: https://www.autismspectrum.org.au.
Chandrashekhar S, S Bommangoudar J. Management of Autistic Patients in Dental Office: A Clinical Update. Int J Clin Pediatr Dent. 2018;11(3):219–227. doi:10.5005/jp-journals-10005-1515